I woke up fairly early to be sure I reached Reno before my noon meeting with Kerry. Along the way I picked up some new darker glasses, since my backpacking ones had disappeared somewhere along the line. I reached the Lowes parking-lot an hour early, so I made a new spare car-key (also forgotten) and was repacking when Kerry arrived. We dropped her car off at another spot, shopped at the Sierra Trading Post outlet store (dangerous!) then headed east on I-80. The miles flew by as we passed an endless succession of dry desert ranges, but east of Battle Mountain a range rose taller than the others, with snow-striped peaks: the Rubies were in sight!
We stopped in Elko for a meal, noting that the Beach Boys were arriving the next day - quite a ways from the beach I would say! We then headed into the mountains, where a pre-reserved campsite awaited us. The campground was nearly deserted, so in this case the reservation forced us to stay near a family that was settled in with lanterns and radio instead of seeking a more remote spot (should have spoken to the host about moving I suppose). The weather was fine, bugs were nowhere in sight, and at over 8000 feet we were ready to deprive ourselves of oxygen in preparation for the hike. We were constrained by vacation-time to staying out only three days, which would leave plenty to see another time - but we were ready for whatever we could get!
---
Day 3 - hike to BaseCamp
A short drive up the remainder of fantastic Lamoille Canyon brought us to the trailhead at 8800 feet. We loaded up our packs and hit the trail before 9:00 under mostly-clear skies and comfy temperatures. The snowpack had clearly not retreated as far as the SNOTEL-network websites had suggested, as the uppermost north-facing slopes had plenty of white; still we were here now and ready to get as far as possible.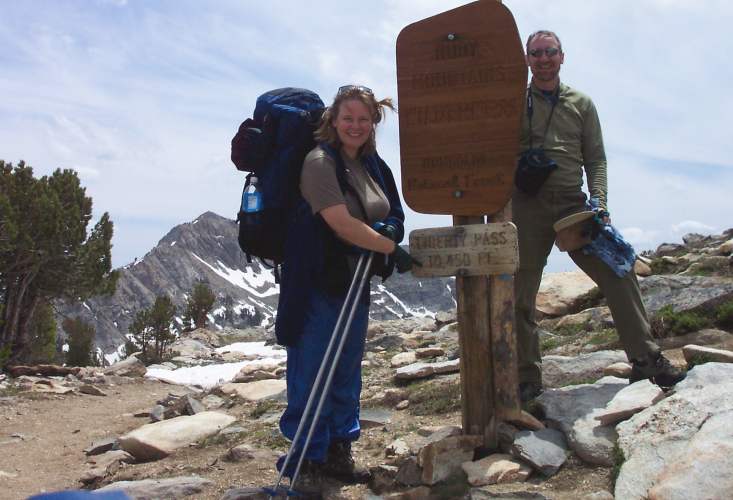 Near the Dollar Lakes we were already crossing white patches, though the trail was quickly found on the other side, but at Lamoille Lake the path became substantially buried. Footprints suggested the way, but we soon found the trail again and with a few more snow crossings we soon had Liberty Pass in our sights. A dayhiker passed us here, bringing total human presence to three so far. We soon crested the 10450-foot pass and savored the fine views.
It turned out that views to the south would improve below the pass, and we soon had a wonderful panorama from above snowbound Liberty Lake, with Lake Peak (10920') and Castle Lake revealed in the distance.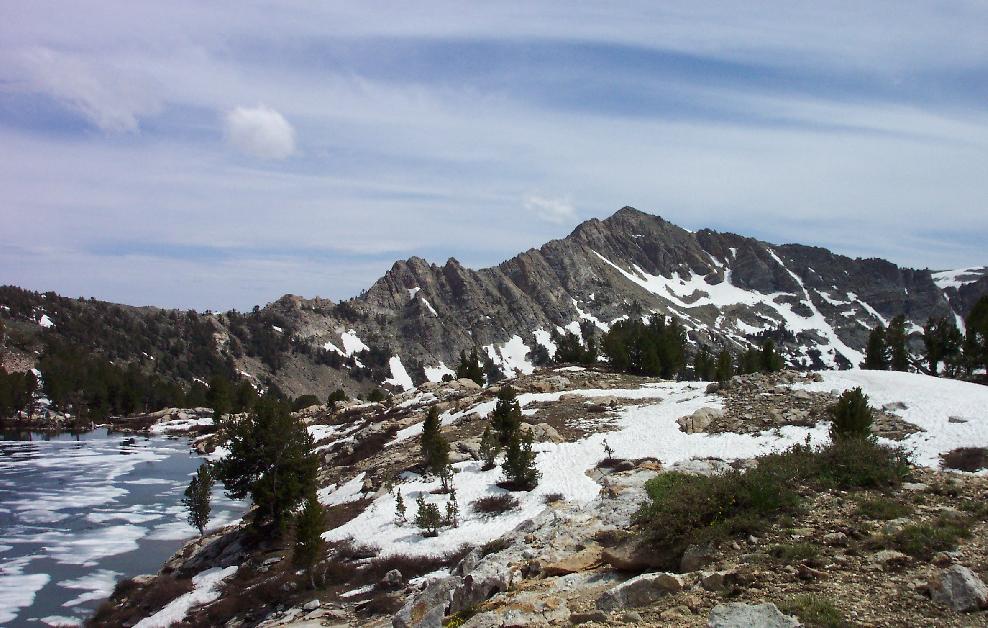 Behind Lake Peak was the summit of Wines Peak; at that point the Ruby Crest National Scenic Trail (that's the official name of our path) reached 10850 feet and did its level best to stay there for miles. We had hoped to camp at Furlong Lake below that peak, but the snowfields were wearing us down more swiftly than we had planned. We took a long break near Liberty Lake's shore, then re-evaluated our camp as we sought the path beyond another large snowfield (footprints were becoming scarce here, beyond dayhikers' limits!). We finally regained the path, with Favre Lake now revealed in the valley between Liberty and Castle Lakes. It looked pleasant enough, and by camping there we could still dayhike to the summit of Wines Peak and look to our south before returning to camp. We set up at a nice spot, filled a bucket with water for cleanup and meals, and relaxed a while.
By dinnertime a chill west wind was rising, rather spoiling the relaxation we had looked forward to. Soon all clothes were on our backs, and even the hot meal could only provide so much warmth. By 7PM we gave up and retreated to the tent, even adding the rainfly despite the harmless-looking clouds just for its windbreaking properties. That night was a long one, and not terribly restful for Kerry; it was a relief when the sun finally rose and freed us from the small shelter we had retreated to twelve hours before.
Day 4 - retreat
The world looked a little different this day. For one thing, the 1/8" thick lid of ice on the water bucket told us it had been pretty cold overnight. For another, white cumulus clouds were rather tall for 7AM, hinting at trouble by afternoon. (I work with several meteorologists who had informed me in Portland that a storm would probably arrive on day three, and just possibly sooner; night one clearly qualified as "sooner"). We ate breakfast while wondering if this might be our last and not second-to-last day in the Rubies, but decided to head south with daypacks to see what developed. As we worked up more snowfields to the unnamed pass north of Furlong Lake, the development was up in the air: several fresh cumulus clouds were rising fast, and that pretty white shading was turning grey in a hurry. Kerry rested a while near the pass while I moved forward to reach the Furlong junction, contemplating our options. I suddenly remembered the Sierra Rule of Ten and began to worry. In the Sierra Nevada, if by ten o'clock you see any cumulus clouds - even tiny ones! - you can expect showers and thunder somewhere nearby that afternoon. It was now 9:55 and cumulus were covering 2/3 of the sky and rising fast! While Sierran rules may not explicitly apply elsewhere, it was not to be disregarded entirely, so at the junction I took one photo and swiftly returned to Kerry. It was time to retreat to the car, gracefully if possible but by whatever means necessary.
We returned to camp, ate dinner at noon, then packed everything up for the return trip. We were in decent shape, with only minor altitude effects, but the full packs slowed us back to day-one speed. We'd also be hitting snowy slopes going downhill, which is a much different proposition from climbing and brings the risk of slipping and post-holing into play. We soon reached Liberty Pass again, and noted that many directions were now obscured by rain - or, more likely, snow!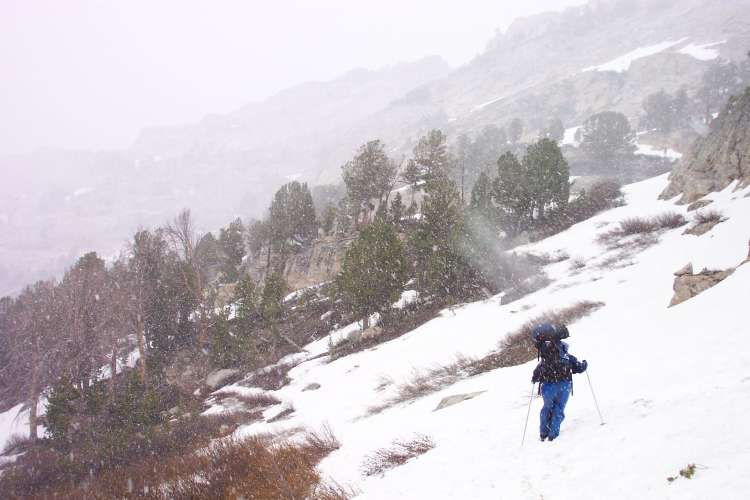 The next half-hour was pretty straightforward, but the large snowfields above Lamoille Lake now awaited us. Our reward at the lake was a stock-path to the trailhead, which was on the north side of the canyon wall and had much less snow than our day-one route. We both slid and post-holed more than once before reaching the lake, and as we did so the snow began. Summer had begun 48 hours before, and I was in Nevada; nevertheless, it was indeed snowing.
More bad news awaited us here. While the stock trail beckoned a short distance away, it was guarded by deep snow that ended at the end of a large and cold creek - the outlet from Lamoille Lake was swift and dangerously cold. After trying to find a place where we could cross further down, it became clear that no safe way could be found to cross the snowbank and stream - so we reluctantly turned back to the footpath. Thunder now growled over the ridgeline to our southeast, meaning that this was my first-ever experience with Thundersnow! We passed the Dollar Lakes again, and soon found the light snow and thunder replaced with quieter but much snowier conditions. We crossed several more snowfields while this was going on, then finally reached more consistently solid ground. The snow relented for a while, but as we neared the 8800-foot trailhead it came back in pellet form. Soon we were back at the car, with a wild day mostly behind us. We had seen as much of the Rubies as time and weather had allowed, and I expect that both of us will return to finish the route some day!
---
Quite a bit of daylight remained to us, so we wandered back to Elko in search of hot springs, or maybe a hot-tub motel? We ate a decent meal prepared on something other than a campstove, then headed west again. With few towns to select from (and no Tranquility Motel - read Dean Koontz' "Strangers" to understand that reference!), we reached Battle Mountain early in the evening. Kerry sprung for a room there (two queen beds gave us a LOT more space than that little tent!) and after soaking a while it was bedtime.