Sierra 2002: Ambition Gone Astray

---
Bloody Canyon to Yosemite

---
The Sierra trip for 2002 was more than ambitious: it was an extreme challenge for all three participants. Since all returned intact it can only be considered a total success, but looking back to those exhausting days that ended late and provided little high-quality downtime, it was a bit more work than I personally like to put in for the reward.

But oh, those rewards! The exquisite Camp Two along the Kuna Crest, looking straight across the canyon to Mts. Lyell and Maclure! The shocking beauty of Camp Three at the base of Banner Peak! The ungodly descent into the North Fork San Joaquin headwaters, and its rewards at Twin Island Lakes! Even the crowded but spectacular descent into Yosemite Valley at trip's end. As we noted before the trip: even though we may miss a few fine destinations, any route we take will be amazing and beautiful. And, of course, we were right. We were right a lot on this trip, with decisions that later would prove to be extremely foresighted in most cases. So nearly everything worked in our favor: our intuition served us well, our bodies and gear held up, the weather was most excellent, the route was truly spectacular, and the rewards and lessons learned will serve us well in the future. Especially the one about ambition tempered by reason, and making time to RELAX.
---
PROLOGUE
The trip itself was, of course, simply the execution of a plan that was hatched several months earlier. Among my many untried routes in the Sierra Nevada were routes along the south and east borders of Yosemite National Park. The trail up Bloody Canyon had been in my hip pocket for a few years, since it was one of the few non-quota trails in the Sierra (especially on the east side); while that changed in 2002, the trail was still essentially deserted. This is not surprising, since Mono Pass is easier to reach from Dana Meadows inside the Park, so few people feel compelled to get there the hard way! A few guidebooks convinced me that a route to the North Fork San Joaquin could be traced from there into Yosemite's wild southeast corner, from which a loop could be made back to the car via Vogelsang and the Muir Trail. Several other interesting routes were examined through the dark nights between hiking seasons, but this one won out for several reasons. Most notable of these was that, having hiked the Sierra only in areas south of the Silver Divide, the entire stretch would be absolutely new to me. I mentioned this plan (and a few others of note) to a few co-workers who often went to the Sierra, but all of them thought they would stay closer to home this year. At about this same time my ten-year marriage came to an abrupt but unsurprising end, and my free time became infinitely greater than I had expected. I began re-examining routes and plans, thinking that I might be hiking alone this time. Soon, however, I had two interested parties: my co-worker Scott, whom I blame for my thorough enjoyment of the Sierra at the expense of the Pacific NW, and my brother Larry who needed a time-out from his job in a big way. The three of us agreed on the 'Bloody Kuna' route in one form or another. Shortly after this, Wally (another co-worker) volunteered to shuttle a car to Yosemite Valley, where he would be meeting relatives during our hike. With this generous offer we could change the route in new and exciting ways, and so the final route became clear:

* Up Bloody Canyon to Mono Pass
* Across Kuna Crest to the Muir Trail¹, presumably meeting it at Donohue Pass
* Cross to the NF San Joaquin above Thousand Island Lake via the 'Sierra High Route'²
* Head north from Bench Valley into the Lyell Fork Merced drainage
* Reach trails again where the Isberg Pass trail crosses the Lyell Fork
* Descend to Yosemite Valley, with possible stops on top of Clouds Rest and/or Half Dome

¹using RJ Secor's Sierra guidebook
²using Steve Roper's High-Route guidebook

This truly ambitious route would require several days to cross trackless terrain, and from Thousand Island Lake to the Isberg trail would violate my 1999 vow to avoid consecutive days of x-c travel; I could only hope this violation would not impose too high a fine! We had eight days to perform this feat, possibly extending into day nine but with mighty resistance from Scott at the idea. Read on to see how our route and schedule fared!
Day Zero - 18 July
Larry and I departed from my brother Tom's place in Medford for the long drive to Lee Vining. Scott was driving separately and had left a day earlier, and we would meet at a reserved campsite near that town in the evening. The drive had several entertaining moments that we could have done without. In Reno for example, where rain and hail reduced our driving to 40mph and started us questioning the optimistic weather forecast and my choice of foul-weather gear (just a light poncho). Things got even worse in Lee Vining, where I was forced to pull over twice to wait out a combination of quarter-size hail and intense rain! Even worse was the misprint on the wilderness-permit form, which implied that we could reach town by 5:30 and get our permit; the shop closed at 4:30, and we wasted about an hour in that commute. We finally reached camp, where Scott was already setting up. The camp was not hit by the Lee Vining storm but clearly had been dampened a few times recently. With no time for a lung-expanding day-hike (we have found those to be quite helpful in getting our sea-level lungs ready for backpacking), we instead returned to Lee Vining yet again for dinner before turning in. We almost overwhelmed the waitress with our questions, but she was cheerful and tolerant - and her art-work at the bottom of the bill was very nice!

---
DAY ONE
We awoke to typical clear-blue skies, with a bit of frost at Trumbull Lake. Once more we drove to the permit station at Mono Lake, where I picked up our wilderness permit (Scott had reached them in time the day before). Then it was off to the trailhead via several short stretches of gravel road. A locked gate barred the road to our trailhead at Sawmill Canyon, so we went to plan B: the trail adjacent to Walker Lake. We followed signs to the trailhead and parked in a large parking area with only two other cars. I left a phone message for Wally to tell him how to reach our car, then got ready to hike. I noticed my car window was down an inch, and having seen what bear-claws can do to a partially-open window, I rolled it up tightly. We were off!

Truly we were off - in less than a minute we crested a small hill and watched the trail descend sharply to Walker Lake. This suggested two things immediately: my message to Wally saying we started at the lake was inaccurate, and 2) my maps AND guidebooks were lying to me. If we're not starting at Sawmill Canyon (due to the gate), nor at Walker Lake, where exactly were we? And Larry was striding up a more appropriately-sloped (uphill) path, suggesting that it made more sense. In the confusion Larry was the most certain, so again we were off!

Ten minutes later we were WAY off: the fine-looking trail deserted us and we began bushwhacking across the slope in search of a way into Bloody Canyon, where the True Trail would presumably be found. We considered retreating, but it wasn't in our nature to give up without a struggle. So we struggled, crashing along on a slightly ascending traverse in search of a route between forest and cliff that would lead to the creek. By the end of our first hour we were exhausted, willow-whipped and thirsty, but we had worked our way across the creek and found the path patiently waiting for us. It was hardly an auspicious beginning, but after a bit of rest .. we were off!

The day was fine and hot, a bit more buggy than our liking (thanks in part to some fine aspen groves, which Larry pointed out are a good indicator-species for mosquitoes), but the path kept us on our way. We passed two pretty waterfalls - well, really steep slides to be more precise, but John Muir called them waterfalls back in the 1870s and NO one argues with him! - and we reached lower Sardine Lake late in the afternoon. With our early detour draining our strength and enthusiasm, we decided that this lake would make a fine camp.. assuming we could find a site. Larry wandered a bit and came back with news of good sites at the far end, so we staggered over and set up shop. A nice place, though again a bit buggy.

Day one ended on a disturbing note: my reliable white-gas stove refused to pump. It worked only reluctantly, creating its own pressure after a few iminutes; most certainly a bad way to start a long trip! I opened the pump chamber and discovered that the rubber gasket had pinched and deformed; I put it back in its place, and it worked much better.. for one day. It was sick again on later days - the gasket looked weak where it had been pinched - but the stove worked acceptably. (One of the first stops after the trip was at a store that sold replacement Coleman pump parts.) I decided to forego the tarp and sleep under the stars (well, trees and stars) with a bug-net over my face; it worked except for the droning bugs, which drove me slightly mad and made me sit up several times swatting the air. After several swings I would overheat in my cool-weather bag, which probably attracted still more bugs. Inevitably I slept.
---
DAY TWO
After a decent breakfast on a clear, cool morning, we were off again.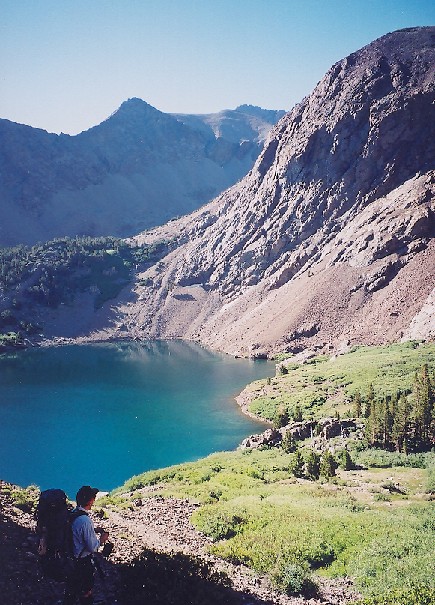 It wasn't long until the pass came into view, along with an interesting geology lesson. The area of Bloody Canyon is probably not named after the mosquitoes but for the red metamorphic rock that tints the area (with a bit of dark grey and gold). This area is clearly not granite! Yet, looming behind Mono Pass stood the Kuna Crest, appearing bright white in contrast to the rusty foreground. The granite more typical of my Sierra jaunts awaited us! We reached the pass, thereby entering Yosemite NP: the classic cutout-metal sign announcing the pass was a clear indication we were there. We turned south and approached the mining cabins (a group of day-hikers was ahead of us, our first sight of humanity since highway 395), but then I realized that the Parker Pass trail shouldn't go that way. We struck off in search of the correct trail and found it rather quickly. Along the way I was startled by a large furry body with a rabbit's ears attached - easily the biggest jackrabbit I had ever seen! It bounded toward Larry so I shouted: "Larry! Jackrabbit!" He later told me that he also would not have expected something that big to be a rabbit, and that Scott suspected it to be a coyote (he was too far away to see the giveaway ears or cottontail). After less than a mile we were off the path again, heading for the stream that connected Spillway and Helen lakes. We reached the swiftly-flowing stream and headed uphill to Helen Lake, where our paper guide suggested a path to the right of the lake. We skirted the south side of the lake before veering right to the base of the final climb, when Larry (further to our right) suggested his path had minimal appeal. Scott and I went a bit left, meandered gently over large and rickety talus, and gratefully reached the top of the Kuna Crest. Somewhere in here Larry decided that we resembled (phonetically, at least) a magical charm that wards off evil - and we christened ourselves as the Talus-Men. Apparently we did ward off sufficient evil, since we completed the trip with only minor damage. We were nearly 12000 feet up at this pass and at the highest point of our trip, though we didn't know it then. Despite his route Larry reached the top just ahead of us, and we sat back and savored the hard-earned view.

And what a tremendous view!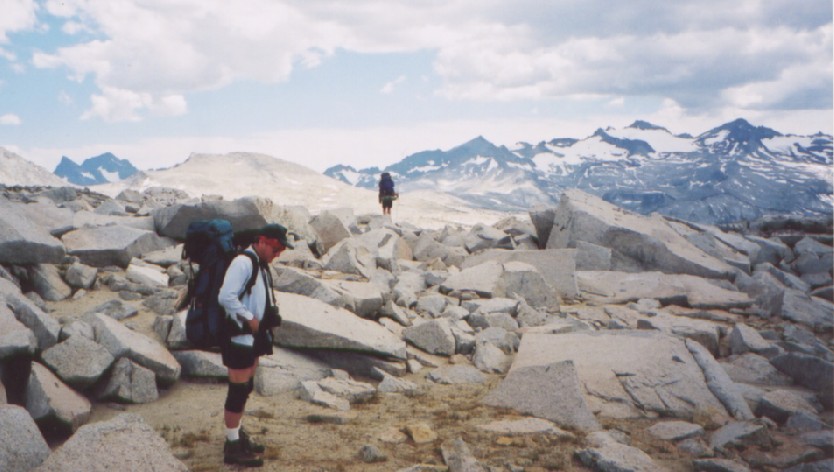 Our climb had revealed the Sierra crest behind us, including Mt. Dana and part of the Yosemite road through Dana Meadows, but the million-dollar view was now to our southwest. Mts. Lyell and Maclure proudly showed off their high-quality glaciers and led a parade of peaks that lowered only slightly before rising again as the Cathedral Range. In that low gap was a granite dome that looked suspiciously like the highest part of Half Dome! Further left of Lyell, through a low gap east of Donohue Peak, we had our first glimpse of the Banner/Ritter massif which so dominates the area south of Donohue Pass along the Muir Trail. We'd be seeing it up close soon enough, but this day belonged to Lyell and Maclure.
After dropping and contouring south we began seeking a camp with decent water. We found an excellent spot with a dying stream (decent water but little flow), dropped our packs and looked over the next ridge for better water. Since the next basin showed little water and more exposure, we returned to our packs and sought a good camp. We had several excellent choices, and settled on a spot somewhat elevated and surrounded by monstrous granite blocks. Clouds now drifted overhead, but two claps of distant thunder was all the trouble they could muster. We cleaned up and ate, still marveling at the views, and then were treated to a fantastic sunset. Larry and I scrambled over rocks in search of yet another angle as the clouds turned to gold, then a cool rose as alpenglow settled over the snowy peaks. This was a memorable day - and it was only day two!

---
DAY THREE
We learned a few things as we crossed the ridge south of camp. For one thing, our traverse southwest to Donohue Pass would be less time-saving than we had hoped, since to get on a good bench for the traverse we would be immediately below Lost Lakes Pass, our other potential path to the Muir Trail. Another thing we swiftly learned was that water was indeed plentiful here, just not clearly visible from last night's angle.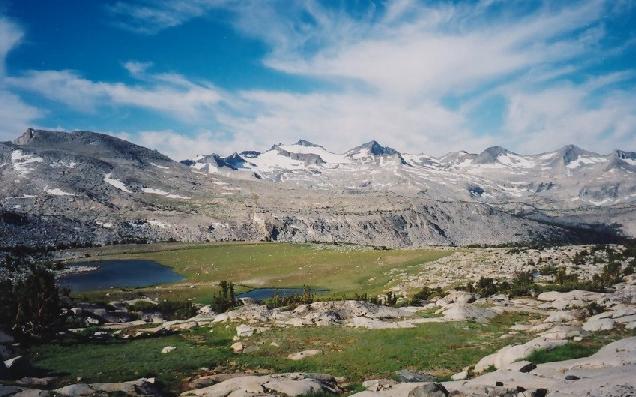 We decided to take the (apparently) more direct way south and angled toward Lost Lakes Pass, crossing a perfect Sierra landscape of water, flowers, small whitebark pines and a stunning backdrop (Lyell &c) beneath a wispy cirrus-streaked sky. The left-side pass had a snowfield that Larry and Scott took to gratefully, while I steered toward the more westerly, snow-free gap. The view was impressive, reaching deep into the central Sierra to the south (including my old friend Mt. Goddard which I had seen up close for three consecutive years), while Banner Peak and Mt. Ritter punctured the skyline at close range. I navigated easy class-two ledges for about fifteen minutes before rejoining the other two for a brief break.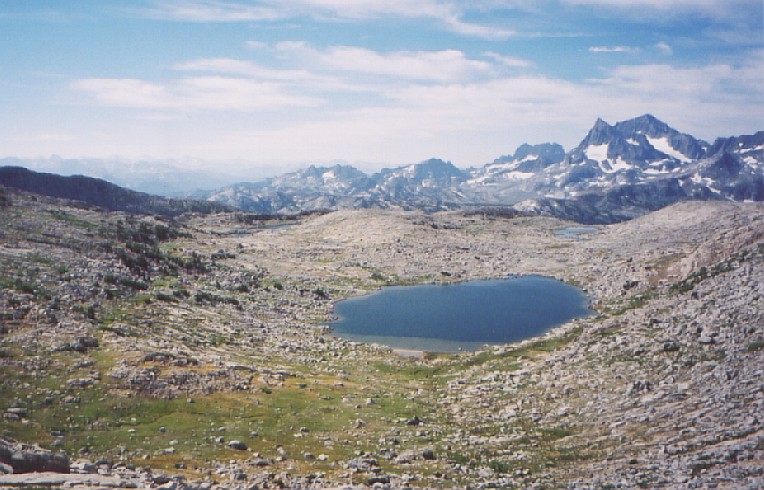 The way down to the Lost Lakes was simple enough, and this stretch of land was as impressive as the other side had been. Then we reached the outlet of the lower lake and pondered our future.

It didn't look good. We were staring down sheer granite slabs inclined at something close to 40 degrees, with minimal handholds and few cracks. After a couple hundred feet the going would get easy again, but that was irrelevant for the next twenty minutes! We pulled out maps and plotted our way to the Muir Trail, but our focus was still much closer than those three miles. We slithered gently downward, then gratefully followed the creek as it led us back toward genuine trails. After a good while, though, we met nothing, and pulling out the maps we noted with dismay that our creek was veering south to hit Waugh Lake and the Rush Creek trail - and so were we! Rather than get greedy, we accepted this alternate route and worked our way downhill, the reservoir now visible through the trees. We traversed one particularly nasty 30-foot stretch (needlessly, as it turned out) and reached the trail. Relieved that we no longer had to think about the route, we headed west and encountered a group of men and dogs going our way. We soon reached the John Muir Trail and took a break, letting them take the lead toward Island Pass. The distance passed swiftly (while we looked back toward the Lost Lakes and wondered "did we really do that??"), and soon we were passing through a gorgeous scene of tarns and wildflowers. Suddenly we were at the pass - one final tarn framing the Banner-Ritter group in all its glory! We shot the scene and relaxed, preparing ourselves for the long stretch of off-trail travel that awaited us.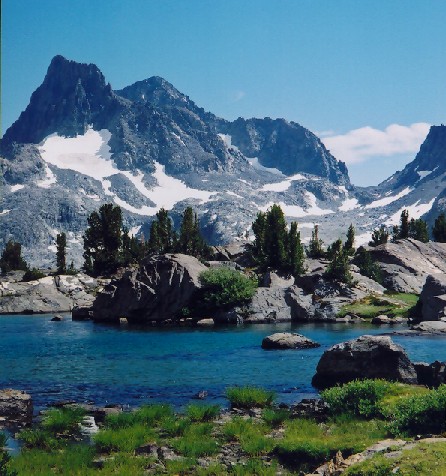 The pass at Lake Catherine was visible from here, and while it didn't look very intimidating after what we had already done it was clearly no cakewalk (and didn't cake sound good right about now?). We began again and soon left the trail, seeking good water and a fine perch from which to attack the pass early the next day. We ended up above Thousand Island Lake near its twin inlet streams, and a bit of searching found enough space for small tents near a slow-moving stretch of creek. The sun was nearly behind the cliffs of Mt. Davis, and while the others set up tents I did a quick jump in the creek, giving the sun sufficient time to dry and warm me. I again chose to skip the shelter for the night, and just after dark I remembered the bug-net; when I returned for it I saw Larry setting up his camera, shooting the Moon as it neared Banner Peak (a magnificent tower from our camp). I grabbed my camera and got off a quick shot before retreating to bed for a great night's sleep, bugged by far less bugs than the first night.
---
DAY FOUR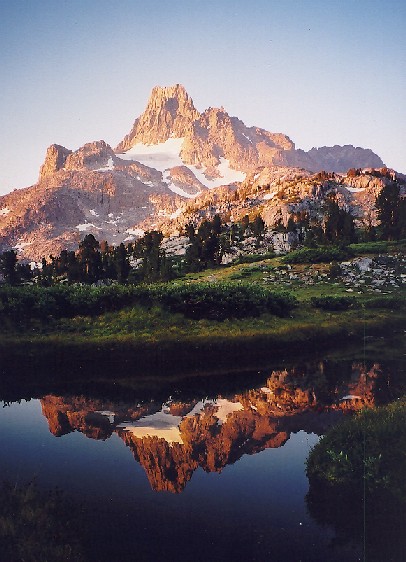 A glorious sunrise combination - utterly clear skies, Mt. Banner within shouting distance, a slow unruffled creek for reflections, and a Thousand Islands in silhouette - prompted Larry and I to rise early. Since we were going to bed before 9PM, a 5:30 sunrise didn't hurt much, and this one would have been worth an hour's sleep any time! The mornings were not cold by any means - I could not see my breath on this or any other morning - and as the sun rose we swiftly went into shorts and sunscreen despite the clock. After breakfast we were yet again off, following the bouncing stream uphill to its snowy source. The snowfield near the top was split in two, and I had veered left in anticipation of our ascent. When Larry and Scott went right and ascended the other snowfield, I was alone for twenty minutes. Other than one swift 'post-hole' drop in the snow (my left leg sank in to above my knee-brace) the way was smooth, and I reached the final ascent to the pass ahead of the other two. I waited as Larry and then Scott came near, then crossed into the North Fork San Joaquin drainage.

A tremendous and starkly wonderful landscape confronts you here, and on a clear day you won't forget it any time soon. Lake Catherine fills the granite bowl below, a deep indigo color that makes Oregon's Crater Lake seem merely a pretty blue.
A slash of ice and snow descends from the gap between Banner Peak and Mt. Ritter, making the summits accessible in theory but not to me. The wind was, to put it mildly, a bit brisk - so we rested and took photos while waiting for the strength to tackle the next leg. Two day-hikers met us at the pass, intent on climbing high on Banner Peak; we wished them well and saw them later as we traversed Catherine's talus shoreline. A small lower lake put a short cliff or two in our way, but we passed them soon enough and found ourselves on the brink. The guidebook mentioned the view from here, but as it was in the Wind River Range with the first sight of Mt. Hooker, it has to be seen to be believed. Words and pictures fail as one tries to capture the disheartening view of a vertical wilderness such as this, and the sight of a small piece of one of the Rock Island Lakes was not in any way reassuring. However, someone made a strong claim that a way can be found, so with their reassurance supporting our own we sought the way, chanting our mantra "whenever in doubt, go right" as we sought enlightenment at every cliff-face. Every fifteen minutes or so we reached one of these cliffs, and with sinking stomach we peered over the edge. Sure enough, if we made a descending traverse to the right we could go another ten minutes to .. another cliff-face. Spooky though it was, it worked: we soon crossed a creek, passed through a gap near some reddish cliffs (mentioned in the guide), and .. another cliff-face. Only a few left, though, and we were at the main flow of the North Fork as it reached the northern Twin Island Lake. Oh, did I say "we"? Actually I lost the other two and reached there first; I must have descended by a different route while they waited for me elsewhere. After an anxious few minutes I reached for the whistle, but then I saw Scott waving from higher up the hill. Relieved and a bit annoyed, I took a nice break waiting for them, only to lose them again when I had to go back to the resting-place for my camera (turned out it was attached to my pack but I couldn't see it until I began removing the pack in search of it). We met again at a wondrous spot, a small cascade mere feet above the level of the lake; we took our sweet time here, drinking our fill and resting in the mist from the short falls. Larry and Scott soaked their feet, but since we were about to cross that same piece of North Fork water below the lake I chose to wait for that moment to provide relief to my feet. We wandered carefully along the eastern shore until we hit the stream, swapped boots for water gear, and just as carefully crossed the stream. Larry's walk kept him at calf level or below, while Scott and I were closer to knee-height at midstream. After swapping back into boots, we clambered upslope to the higher lake, the one we had seen impossibly reposed from the stream below Lake Catherine. We reached it swiftly and rested some more - this had been an amazingly hard day for the few miles we had traveled!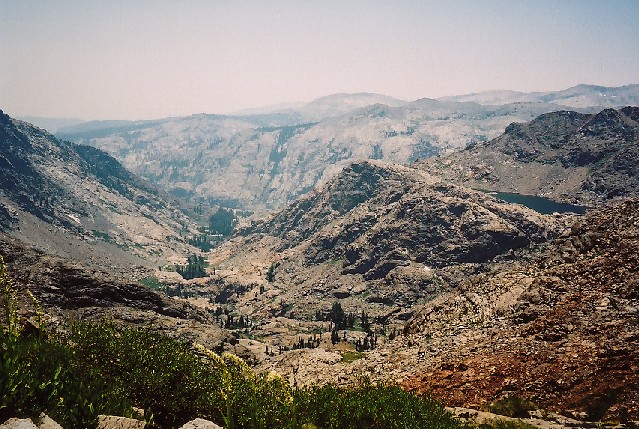 the evil look of the North Fork San Joaquin

It was here that Larry and I each lost a million bucks. At the start of the day and at least once thereafter, Scott had offered us that amount in a bet that we would not see anyone in the North Fork area. Larry and I both believed that to be true and refused the bet. We were all wrong: a family of four was approaching us from the other side of the lake, wearing only day-packs. The matriarch has traveled the North Fork since 1949, so we were more the trespassers than they. After we passed them and circled the lake we began the southward march, planning to reach a presumably beautiful lake a mile or more away. We had not gone more than ten steps in that direction when Larry pointed out a few facts:
* We were exhausted!
* We were standing by a gorgeous lake in stupendous surroundings!
* We were not guaranteed a place of equal merit after another hour of hard work.
Given those obvious facts, we did an about-face and searched for a camp, which we found with little trouble. It had several small spots to sleep, an unbeatable view of the lake, and fifty yards east was a tremendous drop to the North Fork.

Larry and I had lost our millions; now it was Scott's turn to lose. While setting up his tent, a gust of wind sent it airborne as he was reaching for the stakes. With a single high bounce off its springy fiberglass poles, it made straight for the lake! Larry had planned to take a quick dip in the near future, so this event accelerated his plans; he rushed to the lake, stripped and jumped, while I passed over some short cliffs that stood near where the now-sinking tent was drifting. Larry paddled the tent over to me, then unzipped the door so we could lighten its load before handing it to the still shell-shocked Scott. Within an hour his tent was not only dry again but cleaner than it had been in quite some time, while Larry rested on sunny granite slabs to get warm. I again chose to sleep sans shelter, and this night the bugs were quite respectful, allowing me a good night of sleep. Exhaustion was most likely another contributing factor.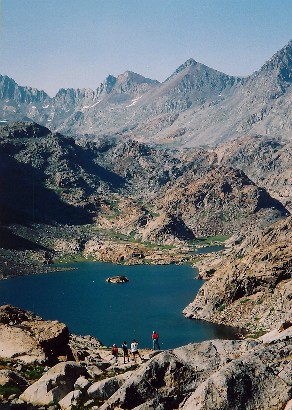 family and lower Twin Island Lake from upper lake
---
DAY FIVE
Was it really day five? Our adventures had seemed both timeless and endless, so the days were swiftly blurring together. A bit more map-reading and hasty planning suggested a new course: by remaining on the High Route over Blue Lake Pass, we could conceivably leave sufficient time to still detour into the Lyell Fork Merced, thereby having our cake and eating it too (chocolate, I hoped!). This was not a major detour in itself, but one small problem cropped up: none of us actually recalled much of the detail past the next lake, since we had planned on either going north or north-west from there and not west! Nevertheless we were pleased and eager to be off, with the trail now a half-day closer on the new route.
Almost immediately we found ourselves off even that part of the route that we knew, finding ourselves well below the elevation of the next lake. Despite the research that led the author to select another way, we confidently predicted that we could reach the meeting of creeks in Bench Valley by a lower route. We continued our traverse with a slight bit of descent, then climbed up to a dark-grey ridgetop crowned with a balanced white rock. From there we could see why the route did not go this way! By squinting and tipping our heads slightly, we still felt sure we could climb up the right-side slot without too much difficulty - so again we were off, sliding down a forested slope, then a talus-choked streambed. From there it was steeply up through flowers, bugs and rocks until the grade slackened. We were minutes away from Paradise, though it was barely visible from this point. Ten minutes later, we knew: a gorgeous high valley, lightly forested, with a splendid creek sliding gently down slabs from pool to trout-filled pool. Larry dropped his gear and grabbed his fly-fishing outfit, while Scott and I soaked what needed soaking in the gently-flowing pools. Mt. Ritter and its satellites marched across the skyline behind us, and the bright sun warmed and dried us with only a few deerflies to spoil the effect. [I enjoyed swatting them and feeding the trout; revenge is sweet!] After a half-hour our family of four rejoined us; they had packed up their lower camp and were moving into this valley for a few days (a wise decision, as if they didn't know it!). We talked with them for quite a while and exchanged e-mail addresses before they moved upward. We finally put ourselves back on the path, reluctantly saying farewell to this special place. We waved at the family one last time as we moved uphill into a magical valley, accompanied by the smaller but still exuberant creek flowing from Blue Lake. [It's difficult to describe this area without fear that everyone on the Internet will pack up and go there, making it far less special than it was for us!]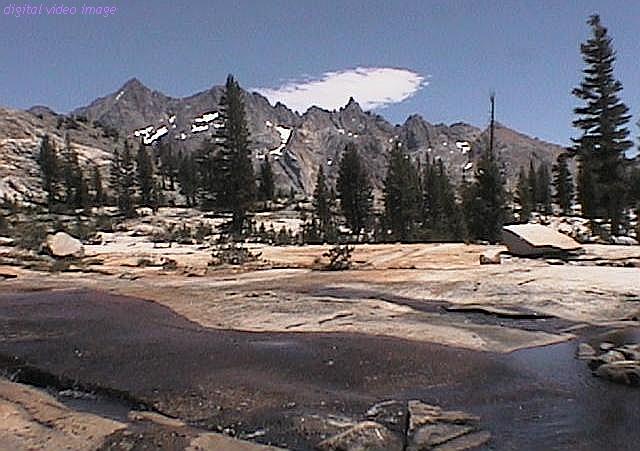 Paradise: Bench Valley neat the meeting of creeks
The siren-call came upon me here, just as it had near Mt. Reinstein the previous year. This time it was the summit of Forester Peak, looking like a short scramble at the head of the valley. Even though it was several hundred feet higher than the pass, it looked like an easier path! No one else heard the call, however, and when I accepted the obvious we continued up-valley without further thought of the summit. We took another quick break at Blue Lake, refilling our water bottles, then pondered two routes that slanted up to the right. Again we split, with Scott taking the left-hand path while Larry and I went right. Our path went higher and further right than we expected, and when we finally emerged it took us a while to find Scott (he was ahead of us). We wandered among still more large talus until we finally crested Blue Lake Pass late in the afternoon.
This would be our last view of Mt. Ritter and the Minarets, and much of the central Sierra (the Silver Divide and points south) showed up for a curtain call as well. On the far side, the Clark Range now appeared in silhouette against the lowering sun. A beautiful view, but no place to rest for long!

Aside from the cold wind, we had another steep slope to descend before reaching camp, so after a short break and more photos we marched wearily down. The slope at first looked good on the left, but after ten minutes the right began to look much better; as Larry and Scott worked their way down the steepest stretch I doubled back and came further right. We met at the highest lake and continued down toward several inviting lakes in a rather barren landscape. We really needed to find a camp pretty soon, yet camping by a treeless lake did not hold much appeal, so we veered north toward where Foerster Creek should be. Soon we reached a couple of dry creek-beds, but the next valley held a small tarn and moving water- not a great flow, but good water nonetheless. We didn't search long before settling on a nice spot, and we hardly finished our dinner before the sun set.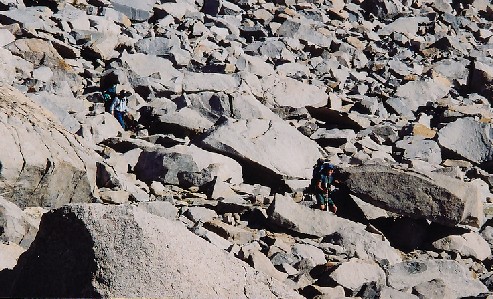 The TalusMen on the west side of Blue Lake Pass
---
DAY SIX
While feasting the previous evening, I pointed out that we were three short days, or two long ones, from the car. That quote dispersed at the time, but it never completely went away. We had taken a hard route, working ourselves to exhaustion on several consecutive days, and the trail was within an hour's walk. We were about to be rewarded with three short days of travel.. but not quite the way we had hoped for twenty-four hours previously. It seemed that we could not camp in the Lyell Fork Merced valley as we had hoped, since that would make the next two days far longer than our plans or bodies would allow. We therefore set aside plans to see the Lyell Fork, but still hoped to at least reach Half Dome's summit on the way to the car (Clouds Rest, however, appeared out of reach).

Another glorious sunrise revealed the Clark Range in all its multicolored glory, and a few lenticular clouds - the 'Sierra Wave' - formed and dispersed as the sun advanced. Even with the trail so close at hand, we steered north instead of west: at the very least, we would get a look at the Lyell Fork from high above its southern rim! After all, what's another hour of off-trail travel to the Talus-Men? We reached the precipice and found a lovely view below us, and we explored the valley with our eyes since our feet would not have the chance. Perhaps another time ...

We retreated from the edge and now moved west, and in less than a half-hour we were on trail again! Not since Island Pass had we traveled on a genuine trail, and we were greatly relieved that we could take our minds off the near horizon and concentrate merely on keeping our feet on the path. At the Lyell Fork we found bugs and a swift stream, so we de-booted and crossed in our water shoes before moving on. Several huge junipers gripped the granite firmly along the path, a most impressive sight. Soon thereafter we passed what several guidebooks refer to as one of the Sierra's best camps: a splashing waterfall, level ground, and picture-window views of the entire Clark Range. We continued north with a vague plan of camping near the junction of the Isberg and Vogelsang trails, but somewhere in here that old quote came back to us. Scott suggested that, with a bit more of a push, we could in fact be at the car by the following afternoon. I was pooped but willing, and Larry agreed that we had seen far more than our share of beauty; we therefore advanced our schedule and aimed for Merced Lake, which would leave just over 14 miles of work for day seven. This would cut Half Dome from the schedule, but we had been on several viewpoints just as awesome, and without the crowds or cables. [The fact that these two final days would be harder than if we had camped in the Lyell Fork valley was conveniently ignored at the time..]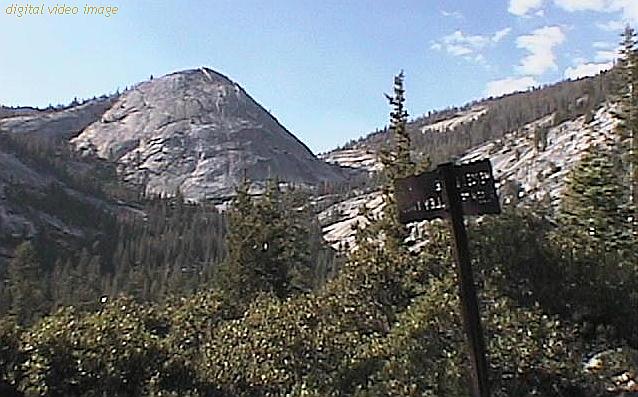 We dropped down to the junction at Lewis Creek, only to be confronted with several new sensations. Among the first was a string of horses, each with a helmeted visitor bouncing along between guides. I had expected that this junction would effectively mark the end of our isolation, yet this was still a surprise! The next new sensation was even worse: cobblestones? For reasons that don't seem to appeal to horses OR hikers, the National Park Service had employed a great many people in the construction of trails that forced a slow pace on everyone - just what we did NOT need for our sprint to the car! We worked our way down to the Merced, then camped at the first available site as darkness tried to catch us walking yet again. A short way past the ranger station we found a huge and unused camp area, which we promptly made use of. Our plans were to be awake and ready to move by 6AM, so we turned in rapidly in order to recharge our weak batteries for the final push. Before turning in I wandered back to the ranger station for news. We had seen smoke further down the valley, and we needed to be sure that our route wasn't blocked. I returned with two important pieces of news: the path was clear, and beer was still being produced (the ranger station had a 12-pack of Sierra Nevada Pale Ale on its table). Since we had stopped a mile short of our goal, we had fifteen miles to go; the ale news put Larry in the proper frame of mind! A good night's rest would recharge us for the last long haul.
---
NIGHT SIX So much for recharging! At 2AM Larry found himself face to face with a good-sized black bear; his shout sent it wandering in a new direction (toward MY shelter!). I woke up, retrieved my whistle and lamp, and tooted him on his way - even though I didn't actually see the bear as I was blinded by Larry's light. Larry suggested that I grab his walking-stick for his defense in case of a closer encounter, so I swung my lamp to our gear to find his stick. Either the same bear or another one was exploring there, so I whistled and flashed my light until he moved toward the river (which he probably did regardless of my actions). All our food was securely stuffed in bear canisters, but any damage to our gear would make life on the last day pretty miserable. At last we saw no trace of the bear(s), so we tried to relax and get back to sleep. Needless to say, it took a while!
---
DAY SEVEN
Not surprisingly, it took us a few extra minutes to rouse ourselves in the morning. When we did, though, we discovered a cinnamon-colored bear a short way off, ignoring us as he rooted through the stumps for real bear-food. Larry stalked the beast for a better photo, but the critter was most elusive. We ate cold food in haste and dashed downhill, past Merced Lake and its Sierra High Camp, and walked mesmerized past the beautiful lake. Perfectly reflected granite cliffs, with large trout lurking against the shoreline, made this a place worth seeing often!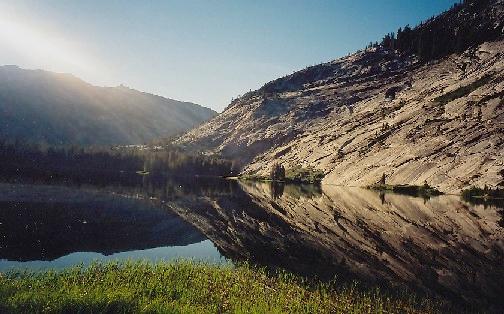 The stream was just as beautiful below the lake, and we soon met the junction at Echo Valley. Since we no longer planned to capture either Clouds Rest or Half Dome, we turned left and followed the Merced past Bunnell Point and its sliding cascade, and finally to Little Yosemite and another chunk of the Muir Trail, which we would follow the rest of the way. The smoke was still pretty thick, but not getting much worse. We were now meeting more and more people, mostly with small rucksacks or even less; none seemed willing to trade me packs despite the clear economic advantage of my gear! Soon enough we were at the Mist Trail junction, passing a group of over a dozen teens and two harried adults. It seemed that well over half the teens were out of water, many for quite some time; the adult refused my offer of water from my bottle and began a lecture that I'm sure they had heard before.
We moved on to the river just above the falls, where we took a break and observed the fire that was burning in the hanging valley between Nevada Falls and Half Dome. As it turned out, the Half Dome trail was closed due to the fire; had we tried to reach the summit we would have lost plenty of time and valuable energy!

The final three miles now awaited our footsteps! We strode / staggered down the steep trail, encountering still more people whose accents betrayed a wide range of foreign visitors. Some of the conversations I had were quite interesting, most especially the one where the man offered to shoot me to ease my 'broken leg' (I was wearing a knee-brace, as I had pretty much the entire trip). I asked for a last beer before being shot, and he pretended to acquiesce before laughing and passing me by. As has happened so often in the past, Scott began to accelerate as the finish line drew near; I let him pass and wandered down with Larry, whose knee was troubling him on the descent. We reached a junction with no sign of Scott, or the Muir Trail: just a sign that cryptically read "foot traffic only". While that sounded promising it was decidedly unclear, and since I saw no sign on the other trail we chose to go that way. (Scott claims this trail was marked for stock; sure would have been nice to see that sign!) The trail was clearly leveling off, but of course the temperature was pretty warm down here, the lowest elevation we had visited since .. who knows, but it was long ago when we traveled by car! As we crossed a stream I asked Larry if he needed to stop for a bit. He pondered it a while before realizing that this proved he needed a break, so we broke for a while by the pretty stream. At last we hit pavement, and followed it into civilization!

As we came into a crowded area we could see Scott at the end of the other trail, shouldering his pack and mentally preparing to go back up to find us! We shouted until he turned around, and we were united again at last. A brief walk to the Happy Isles parking lot followed, where we happily found Scott's truck in plain sight (thanks again, Wally!). After a quick celebratory beer (Larry practically insisted it match the ranger's brew of choice, no complaints here) and a new shirt to replace my 1971 "go climb a rock" logo, we were off - this time on wheels. Scott called and canceled his reservation for the following night and booked himself into Bishop instead. We enjoyed the drive over Tioga Pass very much, looking back from Dana Meadows to our day-two territory, and by late afternoon we were at the Walker Lake trailhead. I noticed that an 'agriculture inspector' had examined my car, dressed in a bear costume: one huge pawprint and several smears were evident. Sure was glad I had rolled up that window! (Later inspection found a wet nose-print on three of the four front windows, and I wiped other paw-prints off when I cleaned the rear window.. they had been pretty thorough!)
EPILOGUE
After Scott headed for Bishop, Larry and I verbally explored our options. Reno was a long way away, and the smaller towns could charge any price they wished. Despite our wish to head north, we accepted the math and turned south to Mammoth Lakes and a comfy room there. The next day we headed north by the usual route, reaching Medford just in time for a BBQ dinner! We stopped at a local store to grab some grub, found some cool Hawaiian shirts, and showed up in style! We made it home Saturday, leaving plenty of time for Portland's famous brewers festival the next day. What a trip!
WOW.
Stop me if you've heard this: that was a HARD trip! Looking back, of course, it should have been: lots of cross-country travel, a puppy-like faith in two guidebooks, and too many miles in too few days for sufficient downtime. Sure, we could have split that eighth day into pieces and spread it around; trouble is, many of our midday hours found us with no possible campsite! Where could we camp between Thousand and Twin Island lakes, for example? Clearly, my next plan is to rethink how I plan: this clever-sounding route demonstrated a bit of big-picture myopia that needs correction. Still, we made it out in the correct number of pieces, had an amazingly great time, and saw some scenery that these pages only poorly describe. I now take out my highlighter, mark the path on my big Sierra map, and return to my favorite pastime - squinting my eyes and seeing what areas above timberline haven't been highlighted yet!