Winter Reclaimed!

---
click images for larger view (in new window)
A friend of mine pointed out the obvious fact that my life had become somewhat lacking in winter workouts. Other than the occasional fair-weather bike ride, I had abandoned sports and kept busy indoors. This was not always the case: I was a decent intermediate-level downhill skier in the mid-70s (high school) and took up cross-country skiing in the 80s. I had contemplated trying downhill again soon, but talk is cheap. She invited me to join some friends on a show-shoe trip, and the day after Christmas I tried it. I liked it!!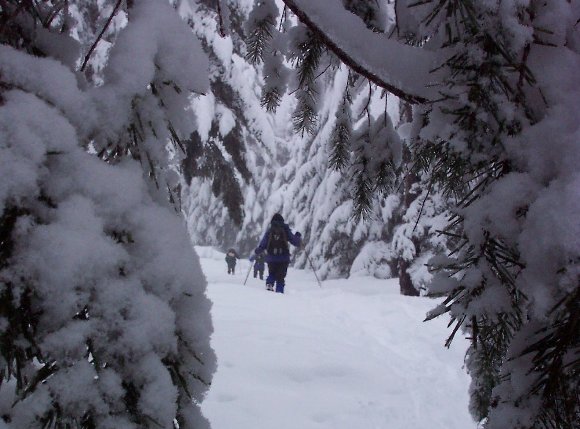 Some people on that trip were on skis, but the terrain was quite broken; I was glad to be walking through it rather than crashing into it. A second trip followed soon after, but the camera didn't come along. I rented a different style this time to see if the performance changed. It was far more challenging due to the 'snow' conditions - essentially a foot of powder coated with 1/2 inch of sleet and ice - so comparing the snowshoe types wasn't entirely fair. For two steps I might stay on top, but inevitably the crust broke, resulting in a quality hole that would require a vertical lift since the crust didn't allow for shuffling! A few new muscles felt that action, but the entertainment value was still high. I hit a late-season snowshoe sale and snatched a bargain pair of Atlas 825 snowshoes; another great trip followed, this time on the ridgeline that culminates in Silver Star Mt. in the southern Washington Cascades. Note the tiny person silhouetted against the bright snowfield right of center. We hiked for an hour before reaching the snow, but my small pack carried the shoes comfortably.
I also re-indulged in downhill, taking the short drive to Mt. Hood Ski Bowl on Super Bowl Sunday. I anticipated a long morning on the bunny slopes followed by some intermediate terrain, but technology and muscle-memory were better than I imagined. Before lunchtime I was in the upper bowl, an area that had spooked me in the '70s. Much to my surprise and delight I had a blast, using much shorter skis to cut through the steep mogul-fields with no damage to body or ego!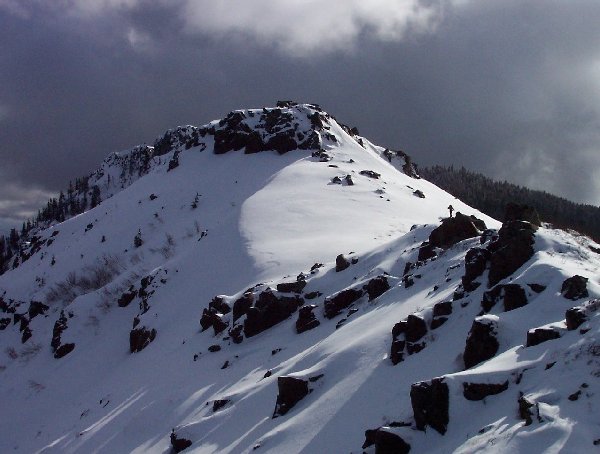 It was a gorgeous day to be on the slopes, and the impending Big Game probably cut the lift-lines down a bit too. Another late-season closeout found me holding dirt-cheap rental skis and boots, so once again I am equipped for downhill skiing!
It's good to be getting outside again! Of course, it will soon be dirt season again (gardens, a new lawn, biking and backpacking), but it's good to remember that standing in snow doesn't necessarily mean freezing! As of mid-February I had yet to break out the cross-country gear. I recall my last x-c trip was a couple years back, in late March or early April; a beautiful traverse to Trillium Lake. Plenty of other places to see, and still plenty of snowpack to get me there.